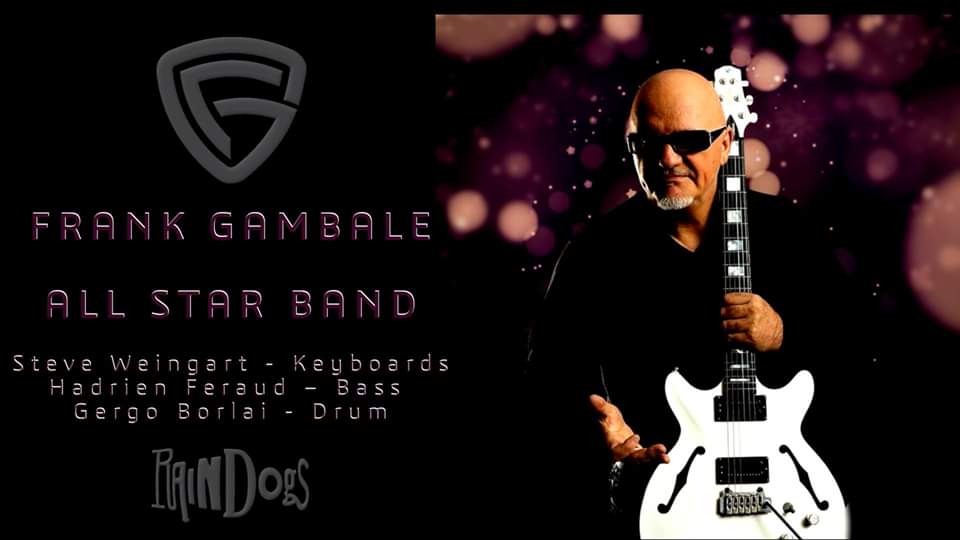 Mercoledì 22 Aprile ore 21.30
FRANK GAMBALE – ALL STAR BAND
● Frank Gambale (Chick Corea, Jean-luc Ponty) – chitarra, voce
https://www.youtube.com/watch?v=wb0zhYiFHig
● Steve Weingart (Steve Lukather, Dave Weckl Band) – tastiere
https://www.youtube.com/watch?v=oAlbQyNKp_c
● Hadrien Feraud (Chick Corea) – basso
https://www.youtube.com/watch?v=xm-EdMb_sO0
● Gergo Borlai (Gary Willis, Al DiMeola, Scott Henderson) – batteria
https://www.youtube.com/watch?v=E6AtpWqwFHM
ingresso 20e con tessera arci
Potete prenotare l'ingresso inviando una mail a raindogshouse@gmail.com inserendo come oggetto "prenotazione Frank Gambale".
"Frank Gambale is one of the best guitar players on the planet"
Chick Corea – keyboard legend and 22-time Grammy Award Winner
"I'd like to take a month off to study with Frank Gambale"
Pat Metheny – Jazz Guitarist
I'd like to cut his hands off"
John Mclaughlin – Mahavishnu Orchestra founder and guitar legend.
Frank Gambale is one of the best guitarists in the world today. His history is undeniable with a Grammy-Award with Chick Corea Elektric Band and over 20 solo albums, an online guitar school, and enthusiastic guitar fans all over the world that revere him as a true Guitar Hero.
His live performances are an unforgettable display of fire and finesse and unbridled energy on electric, acoustic and jazz hollow-body guitar. He has assembled his most dynamic and impressive bands in recent years with Steve Weingart (Steve Lukather, Dave Weckl Band) on keyboards, a powerful and brilliant soloist and keyboardist. Hadrien Feraud, considered one of the hottest new "young" bassists to emerge in recent years who toured with Chick Corea's "Vigil" group. His soloing skills are explosive. Gergo Borlai (Gary Willis, Al DiMeola, Scott Henderson, Bob Mintzer) is also considered one the hottest new drummers with absolute command and jaw-dropping technique. All together, this group delivers funky, jazz, jazz-rock and everything in-between. The sheer power and energy of this band must be seen to be believed. Don't miss this show!