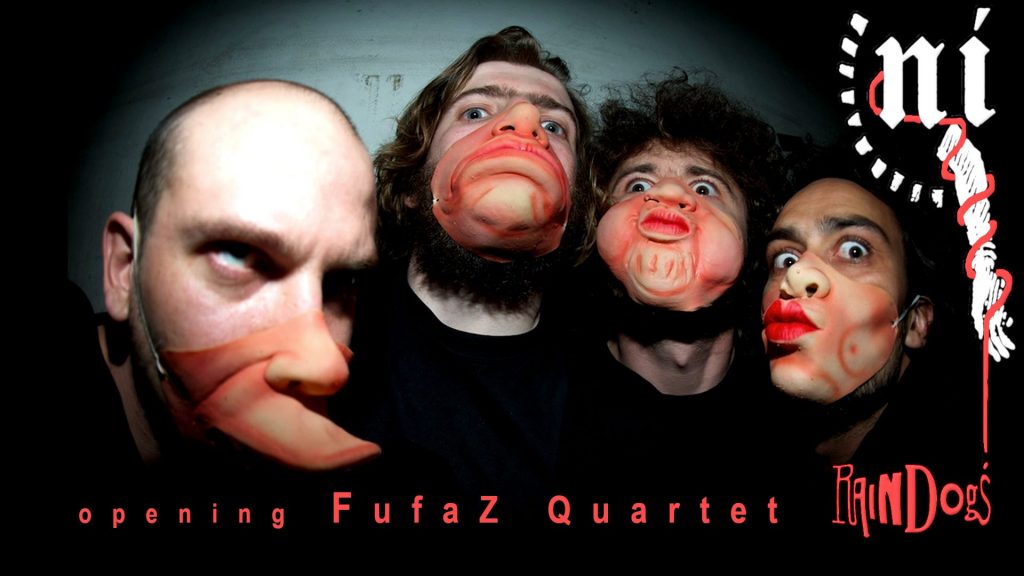 Martedì 14 gennaio ore 21:30
Ni live ( Instrumental/Prog/Avant ) from Bourg en Bresse-France
https://www.youtube.com/watch?v=LzTNDYoX66k
https://www.youtube.com/watch?v=ywoh8Nnh-Dw
https://www.youtube.com/watch?v=V2oVjbVGqSU
FufaZ Quartet ( Groove/Core ) from Savona-Italy
ingresso 7e con tessera arci

– Ni is a four-headed monster. The big bad Ni has left the linear
roads of the French department of Ain – from which it came –
in order to live in a complex world paced by electrical sounds
and varying polyrhythms. The waltz, the 4/4 time signature and verse and chorus structures take one last breath before being burned to ashes at the core of this fire.

3 years after « Les Insurgés de Romilly », and after having spent some time with PinioL, ni is coming back with a new album in 2019. Pantophobie will be released on March 1st, on Vinyl, CD and digital, on Dur et Doux Records.
https://www.youtube.com/playlist?list=OLAK5uy_nPsneqokfgzO3UmWbtU0iylGR1IYkmiX8

The band recorded with Herve Faivre, from Igorrr, and worked with Rémy Boy (Gojira, Secret Chief, Ezekiel…) for the mix.
Also a very impressive live band, ni leaves no chance to curious newbies nor to experimented listeners, and it's with a real joy that we will meet again with one of the most fascinating instrumental bands from the French and European noise rock scene.

——————————————-

– FufaZ Quartet è un trio costituito da Fulvio Giglio (bassista dei forse disciolti Cardosanto e tuttora voce dei The Blue Young Monkeys) e Andrea Avalli (bassista de Gli Altri e dei Mangiatutto) ai bassi, e Nicolas Gargini (ex batterista de La Fine di Settembre e dei Fetish Calaveras) alla batteria. L'obiettivo della band è creare groove inconsueti grazie all'intreccio insolito di tre strumenti prettamente ritmici per far muovere il piedino del pubblico, elaborando le influenze di gruppi come Tortoise, NoMeansNo e Mogwai.