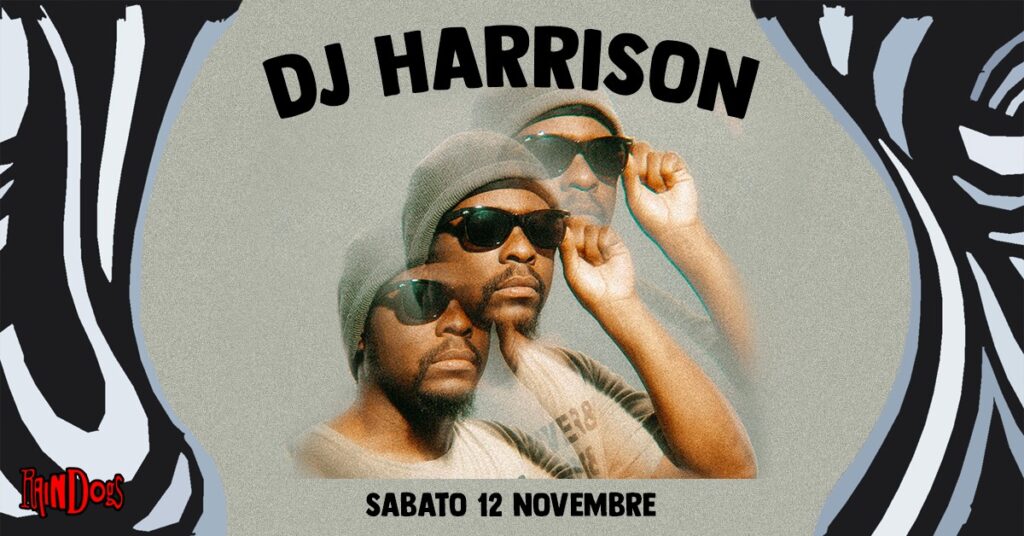 Sabato 12 novembre ore 21.30
DJ HARRISON
https://www.youtube.com/watch?v=NmbARLezrms
https://www.youtube.com/watch?v=AhobwSPgxLE
https://www.youtube.com/watch?v=EFO140PHLqI
Apertura porte ore 21:00 – Possibilità di cenare con le nostre specialità
Inizio concerto ore 21:30
ingresso 13e con tessera arci – under 25 ingresso 9e con tessera arci
Biglietti On Line: https://www.musicglue.com/circolo-raindogs-house

DJ Harrison, alias Devonne Harris, è un musicista nominato ai Grammy Award, produttore, polistrumentista e cantante. Membro della band Butcher Brown, compone funk, hip-hop e jazz lo-fi, è originario di Richmond, Virginia.

I riferimenti a cui si ispira vanno da Hendrix a Roy Ayers, da Sly Stone, a Funkadelic e Lee "Scratch" Perry e c'è ancora molto di più, vintage psych rock, jazz, hip hop, gospel, blues e sperimentalismo.
Il suo nuovo album "Tales from the Old Dominion" è uscito in digitale a dicembre dello scorso anno e l'LP è uscito quest' estate. E' stata appena pubblicata la sua prima Dungeon Sessioon di Stones Throw di "Have You Ever Been (To Electric Ladyland)", che ha avuto un'ottima risposta, incluso il supporto e la condivisione sui social da parte di Tyler, The Creator!