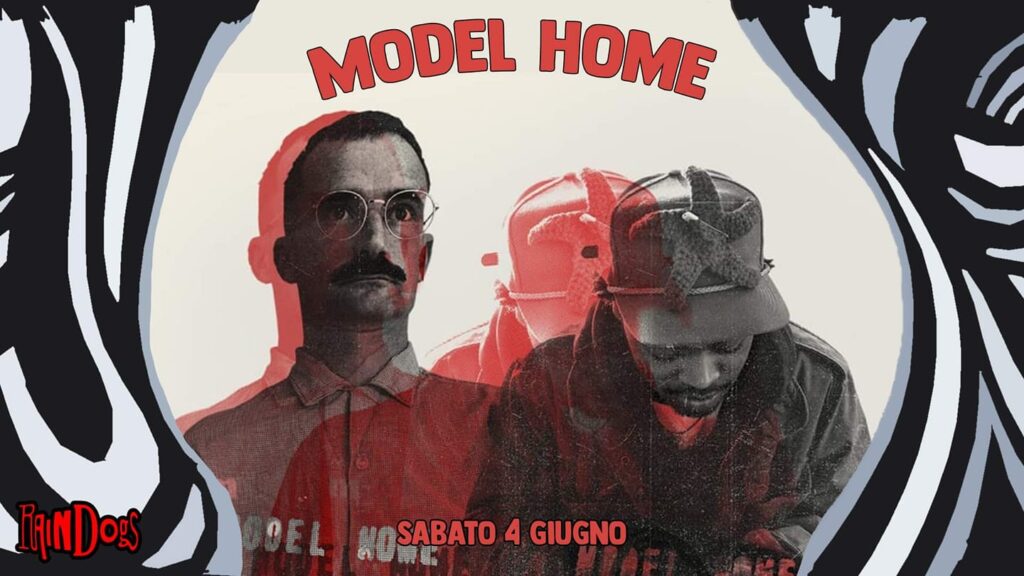 Sabato 4 giugno ore 22.00
Model Home
From Washington DC, they can sound like post-modern take on old school hip-hop, glitchy noise or even contemporary indie.
https://modelhomedc.bandcamp.com/
https://www.youtube.com/watch?v=Qzp2m-Q6sAo
https://www.youtube.com/watch?v=B1YTNO9K-Dg
Apertura porte ore 21:00 – Possibilità di cenare con le nostre specialità
Inizio concerto ore 22:00 – Dopo il concerto fino alle 03:00 gaudenti come sempre!
ingresso 8e con tessera arci, under 25 ingresso 5e con tessera arci
Biglietti On Line: https://www.musicglue.com/circolo-raindogs-house/

Model home is an earthbound experimental rap/hip hop duo, of infinte dimensions always ready to get down. Their sound is made from vocal and electronic abstractions presented in the tradition of improvised creative music. "A messy and unblinking improvisational blurt that quickly becomes dense and confusing, even though reality itself is often incredibly confusing and overwhelmingly dense, and perhaps that's the fundamental idea radiating from every spontaneous noise-blot ever made by this District duo" – The Washington Post"Built on the edifice of dub sound systems and DIY basement clatter, this monument to a year-long experiment in collective improvisation is made up of slabs of textured noise and decayed vocals, but they use their DIY chaos as a radical force against all hierarchies." – Pitchfork (7.8)"Killer avant-rap. The album's 11 joints are freely improvised in a nerve-riding, ruffshod style crucially powered by fizzing and skewed beats." – Boomkat



ALCUNE REGOLE
Ciao Amici, come ben sapete, dopo un travaglio lungo quasi due anni, finalmente le regole sembrano andare verso un progressivo stato di distensione. Al momento non c'è bisogno di green pass, nessun tampone, nessun foglio presenze da firmare. Portate con voi una mascherina ffp2 ed è fatta! Ci vediamo ai concerti, magari con una fresca birretta da gustare!