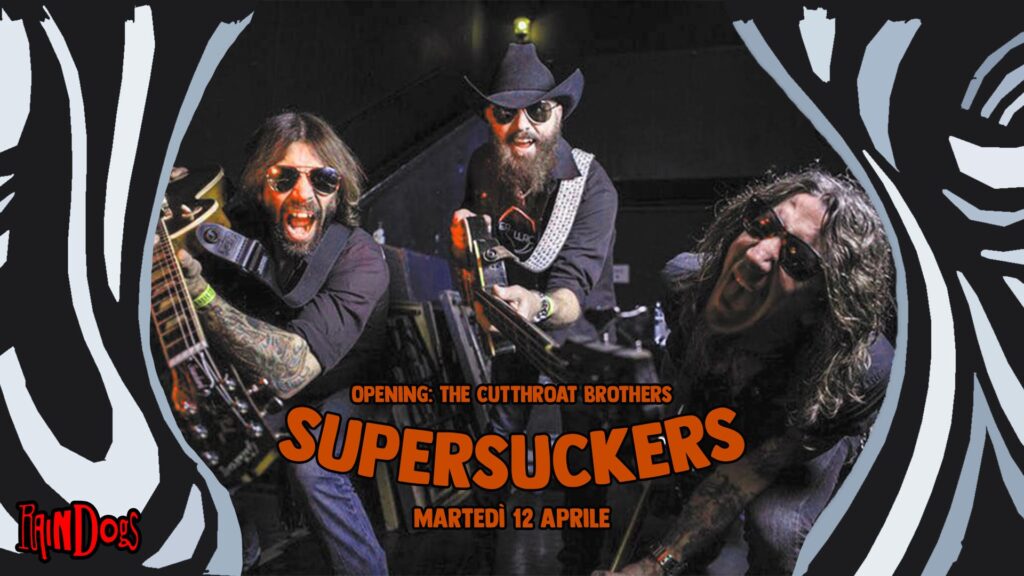 Martedì 12 aprile ore 22.00
Supersuckers + The Cutthroat Brothers
The greatest American underground rock band of the last 25 years…
– Classic Rock Magazine (2014)
https://www.youtube.com/watch?v=dEZAIX24h00
https://www.youtube.com/watch?v=E69D_FRrFM4
https://www.youtube.com/watch?v=ihOKt4ZlMkE
https://www.youtube.com/watch?v=SiSVj2dzuoU
Apertura porte ore 20:30 – Possibilità di cenare con le nostre specialità
Inizio ore 22:00
ingresso 15e con tessera arci – under 25 ingresso 10e con tessera arci
Biglietti disponibili in cassa e online a questo link: https://www.musicglue.com/circolo-raindogs-house

I Supersuckers si formano a Tucson, sotto la conduzione di Eddie Spaghetti dapprima esclusivamente bassista del gruppo, che ricoprirà successivamente anche il ruolo di cantante e leader della band.Si propongono sin dagli inizi un punk roccioso pur restando sempre molto versatili nelle loro sonorità, essendo oltremodo vicini al country, genere particolarmente amato da tutta la band. Stiamo parlando di una cult band che dopo essersi trasferita a Seattle nel 1989 ha poco dopo firmato il suo primo contratto con la storica Sub Pop. Negli anni successivi i Supersuckers hanno registrato con molti artisti, tra cui Willie Nelson, Steve Earle e Eddie Vedder dei Pearl Jam. Sono apparsi al The Tonight Show con Jay Leno come backing band di Willie Nelson. Hanno girato con numerose band tra cui The Ramones, Motörhead, The New York Dolls, The Dwarves, White Zombie e i Nashville Pussy.

Hanno detto di loro:
If you don't like the Supersuckers, you don't like Rock-N-Roll. – Lemmy Kilmister from Motorhead
They played my birthday party. They rock! – Eddie Vedder from Pearl JamEvery time I hear the word
'Supersucker,' I'm reminded of an older gentleman who went into the strip bar and the hooker c'm dancing up to him and said 'Superpussy!' and he said 'Soup, please.' – Willie NelsonSupersuckers…
I love the Supersuckers, our whole band loves you guys! – Robin Zander from Cheap Trick
The Supersuckers understand that great rock and great country are, at least on a spiritual level, exactly the same thing. Rock on, boys. – Steve Earle

——————————

The Cutthroat Brothers
The venomous blues-punk, swamp-garage sounds of The Cutthroat Brothers conjure bands like The Gun Club, The Cramps, The Stooges, and even a taste of Sonic Youth and Hawkwind. The gruesome twosome, along with punk legend Mike Watt (Minutemen, Firehose, The Stooges) are back in road sharpened form. Jason Cutthroat's grinding, straight razor slide guitar and Donny Paycheck's (ex Zeke) pummeling, heavy-as-hell drums beat down on you in a blues punk soaked fever. Mike Watt provides the blood-like glue that brings the monster's heart to life."…a grimy, sleazy dose of punk-blues that should appeal to fans of Nick Cave, The Stooges, The Cramps, etc." – Brooklyn Vegan"It's swampy yet catchy and groovy and fuck, recalling the likes of the Cramps, the Gun Club and yes, the Stooges." – LA Weekly




ALCUNE REGOLE
Ciao Amici, come ben sapete, a causa della particolare situazione che stiamo vivendo tutti, le regole sono in continuo mutamento. Per questo motivo siamo qui a darvi tutte le info affinché si possa continuare ad ascoltare bella musica e bere birrette tutti assieme. Con Gennaio 2022 queste sono le nuove regole: obbligo di super green pass, obbligo di indossare mascherina ffp2 all'interno del locale, somministrazione cibo e bevande non all'interno ma sulla bella terrazza. Come sempre fino ad ora, invece, NON verrà chiesta l'esibizione di documenti di identità.
Tutte le precedenti regole sul distanziamento e l'utilizzo delle mascherine resteranno valide. Giochiamo di squadra per far sì che la gaina non finisca mai!!