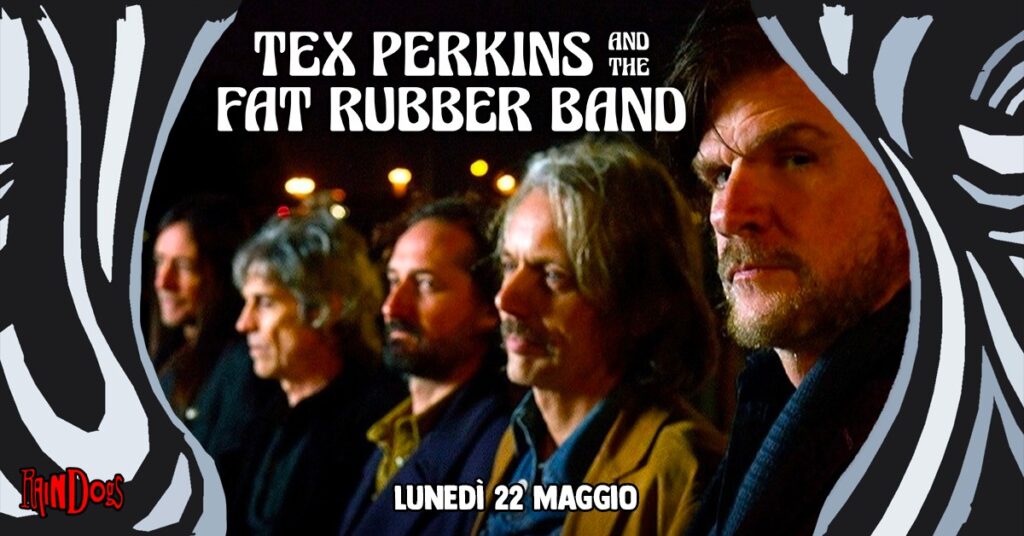 Lunedì 22 maggio ore 22.00
TEX PERKINS and THE FAT RUBBER BAND
https://en.wikipedia.org/wiki/Tex_Perkins
https://www.youtube.com/watch?v=MnnIZk_CoeQ
https://www.youtube.com/watch?v=e6JqIVQXZSc
https://www.youtube.com/watch?v=gk7pxBGLqaM
Apertura porte ore 21:00 – Possibilità di cenare con le nostre specialità
Inizio concerto ore 22:00
ingresso 12e con tessera arci – under 25 ingresso 7e con tessera arci
Biglietti On Line: https://www.musicglue.com/circolo-raindogs-house

TEX PERKINS è un personaggio chiave della scena musicale Australiana e una vera e propria icona in patria.
Dai ben noti Beast of Bourbon ai The Cruel Sea, passando per The Ape o all'acclamato progetto tributo a Johnny Cash, Tex non ha mai sbagliato un colpo… e il suo ultimo progetto, TEX PERKINS and THE FAT RUBBER BAND non è da meno!
The latest thrilling incarnation of master rock'n'roll storyteller Tex Perkins and the Fat Rubber Band began with a Link Wray record.
Perkins and his respected musician, songwriter, producer and bandmate Matt Walker share a mutual admiration of the American electric guitar innovator, whose iconic power chords in his signature 50s rock'n'roll instrumentals, had a profound influence on the evolution of rock guitar.
The pair have enjoyed countless musical conversations over the decade while hanging out backstage and on the road with Perkins' award-winning The Man In Black – The Johnny Cash Story, with Walker playing guitar in the Tennessee Four band for the theatrical production.
When Perkins enthused about his partner finding him a rare vinyl copy of Link Wray's Beans and Fatback album, recorded in 1971, Walker's response initiated a flurry of creative endeavour which would ultimately result in the formation of the Fat Rubber Band.
Even after all these decades, when you think you know that gravelly baritone inside out, Perkins finds new emotional tones in the service of the Fat Rubber Band's songs vivid narratives, with their characters wrestling, but sometimes dancing, with the tougher, darker qualities of the human condition. This is truly existential blues.
This is end times existential electric country funk folk rock swamp witch blues, its way out there, but it's here right now.
Tex Perkins and the Fat Rubber Band release their debut album on Friday October 29, 2021.