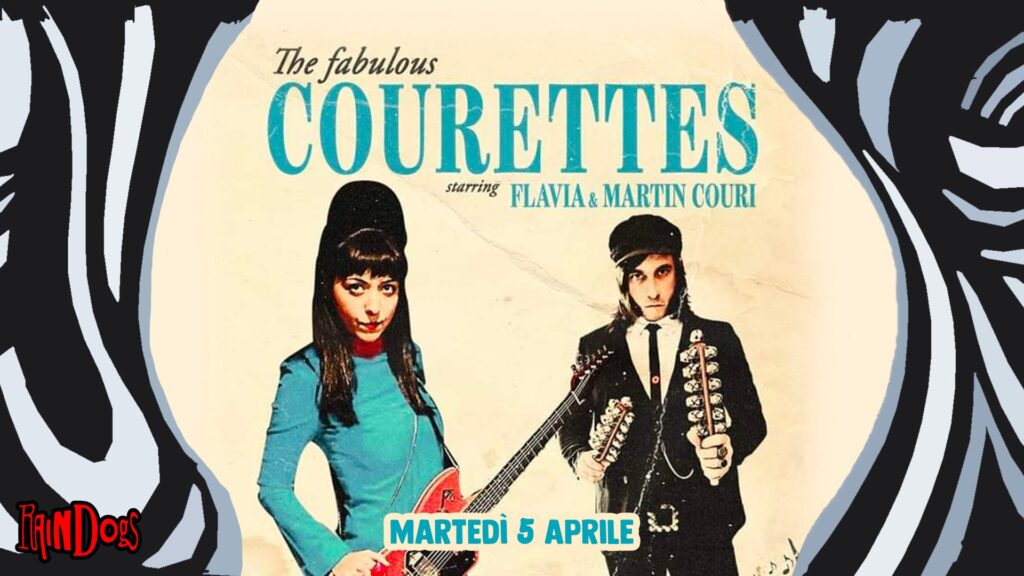 Martedì 5 Aprile ore 21.30
The Courettes
"The world's greatest two person rock n' roll ensemble"
The Next Big Thing
https://www.youtube.com/watch?v=-vJ597Iewsw
https://www.youtube.com/watch?v=336RG4o3v6s
https://www.youtube.com/watch?v=kZlnMgFmY-c
Apertura porte ore 20:30 – Possibilità di cenare con le nostre specialità
Inizio concerto ore 21:30
ingresso 7e con tessera arci – under 25 ingresso 5e con tessera arci
Biglietti On Line: https://www.musicglue.com/circolo-raindogs-house/

The Courettes sono un incredibile garage rock duo formato dalla chitarrista / cantante brasiliana Flavia e dal batterista danese Martin. Ritmi selvaggi che pescano nella tradizione delle Riot Grrrls e del rock'n'roll scandinavo; fuzz-shake and roll per un set altamente esplosivo che farà impazzire sia i fan dei Sonics che delle Ronettes. Nel 2020 hanno firmato per la prestigiosa etichetta inglese Damaged Goods e nel 2021 sono usciti con l' album acclamatissimo: " Back In Mono "!Ecco che si dice di loro in giro:- "The real deal. The most authentic 60's inspired garage rock since Thee Milkshakes were around"
vive le rock- "The real sound of now busting through my door, new songs that keep kicking
the history forward. I can't imagine my turntable without The Courettes"
david fricke, rolling stone- "Your new favourite band once you´ve heard them!"
louder than war
The Courettes is an explosive rock duo from Denmark and Brazil who found the perfect blend between garage rock, 60s Girl Group, Wall of Sound, surf music and doo wop. Like The Ronettes meet The Ramones at a wild party at Gold Star Studios echo chamber. Praised by the biggest music magazines around the world, in 2020 the band signed with legendary British label Damaged Goods, putting them on the same roster as top international rock icons like Buzzcocks, Manic Street Preaches, Atari Teenage Riot, New Bomb Turks, Amyl and the Sniffers, Billy Childish, Captain Sensible and many others. Their last and third album, "Back in Mono" was released in the Fall 2021 and is a truly milestone in the career. The album brings the band in top form, showing great songwriting skills and with broader nuances, influences and sound qualities to their garage rock recipe. Their last singles, "Want You! Like a Cigarette", "Hop The Twig" and "R.I.N.G.O." all got airplay at BBC 6 Radio in England and radio stations in Europe and the USA. "Back in Mono" got top reviews in the main music magazines like Mojo, Classic Rock and Shindig and was featured in countless Best Albums of 2021 lists:"A force to be reckoned with. Matching the garage rock ferocity of The Sonics to prime early 60s girl group, the band's output is utterly feral in the most addictive possible way. Reminiscent of The Ronettes given a Ramones style overhaul, their evil charms arrive covered in blood-soaked glamour. Twanging guitar and raucous percussion, a wild head-long charge into the unknown"
The Clash Magazine: "Exuberant third release, a giddying rush of noise"
Mojo: "Seems like the best record you've ever heard. A rock n' roll sacrament from your new favourite band"
Classic Rock Magazine: "Sensational good album!"
Ox Magazine: "Just keeps getting better and better"
Shindig!: "Fantastic album"



ALCUNE REGOLE
Ciao Amici, come ben sapete, a causa della particolare situazione che stiamo vivendo tutti, le regole sono in continuo mutamento. Per questo motivo siamo qui a darvi tutte le info affinché si possa continuare ad ascoltare bella musica e bere birrette tutti assieme. Con Gennaio 2022 queste sono le nuove regole: obbligo di super green pass, obbligo di indossare mascherina ffp2 all'interno del locale, somministrazione cibo e bevande non all'interno ma sulla bella terrazza. Come sempre fino ad ora, invece, NON verrà chiesta l'esibizione di documenti di identità.
Tutte le precedenti regole sul distanziamento e l'utilizzo delle mascherine resteranno valide. Giochiamo di squadra per far sì che la gaina non finisca mai!!