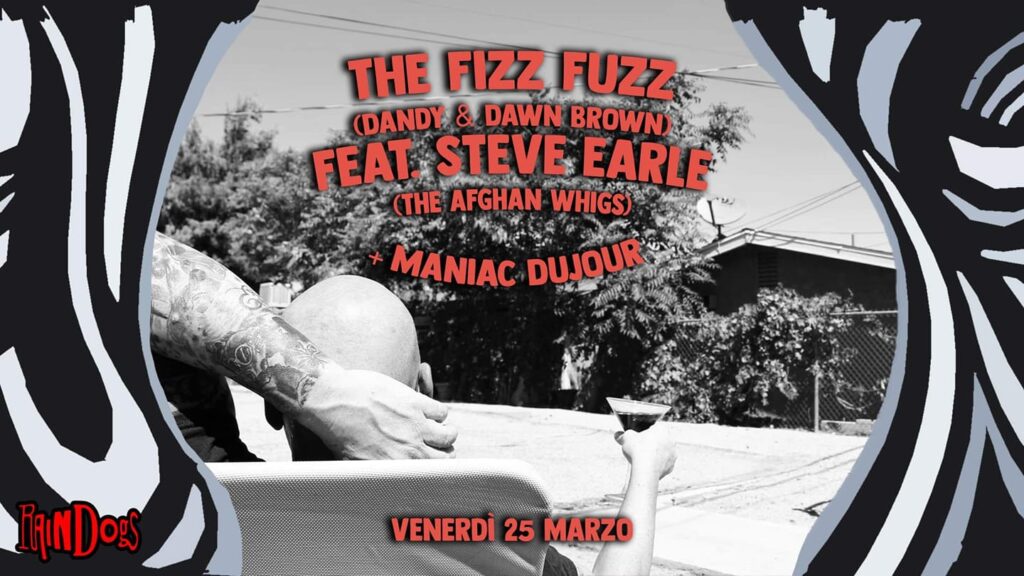 Venerdì 25 marzo, ore 22.00
The Fizz Fuzz w/ Dandy Brown ( Hermano / Orquestra del Desierto ) & Dawn Brown feat. Steve Earle ( Afghan Whigs ) + Maniac Dujour
https://youtu.be/Ix5JimvsHRY
https://youtu.be/1gJXDD2C_o8
Apertura porte ore 21:00 – Possibilità di cenare con le nostre specialità
Inizio concerti ore 22:00 ingresso 5e con tessera arci
Biglietti On Line: https://www.musicglue.com/circolo-raindogs-house
The FIZZ FUZZ
Coming together for the first time in the high desert of southern California during the fall of 2017, the FIZZ FUZZ are a blues-rock band from Santa Rosa.
Dandy Brown is a producer, singer, songwriter and multi-instrumentalist best known for his work with the bands Hermano, Orquesta del Desierto, John Garcia, Alice Tambourine Lover, Yawning Sons, and his solo releases. In addition to covering guitar and vocal duties with the band, Dawn Brown is a multi-media artist currently engaged with photo experiments and commissioned pieces throughout northern California.
Their debut album, Palmyra ( Taxi Driver Records), was released in the spring of 2020 and features performances by David Angstrom (Hermano/Luna Sol), Steve Earle (Afghan Whigs), Mike Callahan (Hermano/Earshot), Alice Albertazzi and Gianfranco Romanelli (Alice Tambourine Lover), and Mark Engel (Orquesta del Desierto).
Hermano
Formed by producer Dandy Brown in 1998, the original lineup consisted of vocalist John Garcia (Kyuss, Unida, Slo Burn), bassist Dandy Brown, drummer Steve Earle (Afghan Whigs) and guitarists Mike Callahan (Earshot) and David Angstrom (Black Cat Bone, Supafuzz). After passing tapes and CDs amongst each other for six months, the band members entered the studio in early 1999 to begin recording their debut album. The record was completed in the early 2000; however, it was another two years before it was released, due to an assortment of contractual obligations.
The band released Only a Suggestion in 2002. The release was followed by touring in North America and Europe. During this period, drummer Steve Earle was replaced by Supafuzz drummer Chris Leathers; Leathers joined the band for the first time at the Azkena Festival in Spain in 2003.
Hermano signed to Dutch label Suburban Records and released Dare I Say in 2005.
In 2005 they released Live at W2, a live CD from their Angry American tour. It was followed by a DVD of the show in 2006.
Hermano released their third and final album Into the Exam Room in late 2007, and followed the release with multiple tours throughout Europe. ORQUESTRA DEL DESIERTO
Orquesta del Desierto is an American desert rock band from the Palm Desert, California. Founded upon music inspired and written by producer Dandy Brown (Hermano), members of the band include or have included vocalist Pete Stahl (Scream, Goatsnake, Wool), drummer Alfredo Hernández (Kyuss, Queens of the Stone Age, Ché), guitarist Mario Lalli (Fatso Jetson, Yawning Man) and guitarists Mike Riley and Country Mark Engel, Brian Brown, Landerra Sean Carrillo, Pete Davidson, Adam Maples, Bill Barret, Jackie Watson, Emilliano Hernandez and Tim Jones. The band released two albums to date: an eponymous debut in 2002 and a follow up in 2003, appropriately titled "Dos".
The band dissolved in 2006 as members moved on to pursue other projects.Maniac Dujour
"Maniac Dujour" è un progetto fondato ed ideato dal chitarrista e tecnico del suono Paride Lanciani. Durante la sua carriera, Paride è stato chitarrista in bands quali ROCKSIDE (1989-1991), KASH (1997- 2017), ha fondato l'ensemble INSTRUMENTAL QUARTER, attualmente è anche chitarrista e compositore nel gruppo statunitense SLOWDOWN MERCURY. Paride ha suonato con parecchi nomi della scena indie nazionale ed internazionale: Shellac, Dandy Wharol, Shannon Wright, US Maple, Neurosis, Oxbow, sono solo alcuni di essi. E' stato invitato a suonare in Festivals quali BBQ Festival in Chicago, CMJ Festival in NYC, ATP Festival in UK. Ha pubblicato ad oggi oltre 10 albums con le diverse formazioni, di cui tre registrati da Steve Albini in Chicago. E' stato impegnato in diversi tour in Italia, Europa ed USA.
2015. MANIAC pubblicano "Electrical Brain Activity", debut album, uscito per la label di Chicago, SICKROOM RECORDS LTD.
2016. Tour in Italia ed Europa, toccando varie città e capitali tra cui Vienna, Brno, Budapest, Cracovia. MANIAC pubblica due nuovi singoli: "Flying with you" e "Two animals".
2017. MANIAC è in tour in USA midwest, toccando capitali quali Chicago, Madison, Detroit. Registrano il terzo singolo, Call U presso gli Electrical Audio Studios con Steve Albini.
2018. Composizione e riprese del secondo album, FLASHBACK. Si aggiungono al gruppo due nuovi elementi: Tommaso Fia, piano, tastiere e voce e Lorenzo Veglia agli arrangiamenti di viola e violino.
2019. MANIAC firma un contratto discografico con la label Newyorkese BENTLEY RECORD ltd. In ottobre esce "FLASHBACK", distribuito sulle principali piattaforme di musica, streaming, digital web stores, etc.



ALCUNE REGOLE
Ciao Amici, come ben sapete, a causa della particolare situazione che stiamo vivendo tutti, le regole sono in continuo mutamento. Per questo motivo siamo qui a darvi tutte le info affinché si possa continuare ad ascoltare bella musica e bere birrette tutti assieme. Con Gennaio 2022 queste sono le nuove regole: obbligo di super green pass, obbligo di indossare mascherina ffp2 all'interno del locale, somministrazione cibo e bevande non all'interno ma sulla bella terrazza. Come sempre fino ad ora, invece, NON verrà chiesta l'esibizione di documenti di identità.
Tutte le precedenti regole sul distanziamento e l'utilizzo delle mascherine resteranno valide. Giochiamo di squadra per far sì che la gaina non finisca mai!!